Bridging The Gap Between Recreational and XR Programs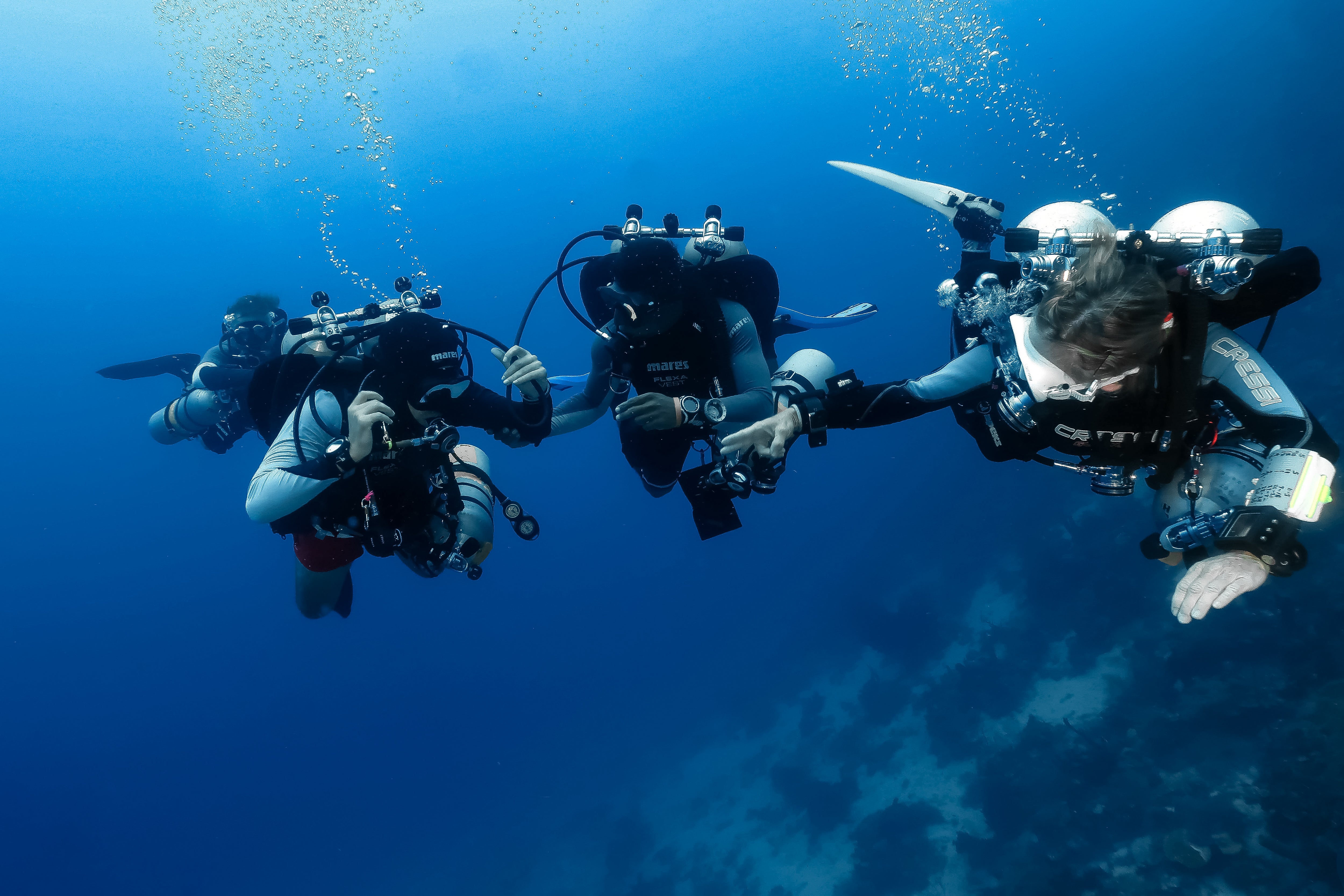 January - Bridging The Gap Between Recreational and XR Programs
My first encounter with a technical diver can be summarized in one word "WOW!"  I had never seen a diver move through the water with such grace and buoyancy control.  I had no idea how he came to dive at that level, so I decided to simply ask.  He explained that he had been trained in tech diving.  I immediately thought, "Heck No! I have no interest in technical diving".  Why would anyone put themselves at risk like that.  I have no idea where this preconceived notion came from but my mind was made up.  I would continue to be a recreational scuba diver with less than perfect buoyancy or finning techniques.  
Over time, I couldn't seem to brush the idea of improving my diving skills aside so I decided to bite the bullet and give Extended Range a try.  My plan was to do the course solely to improve my diving skills.  I would do the decompression dives as training, but for no other reason.  Training only!  As I entered into the SSI Foundations Course I was amazed at how quickly my instructor was able to help me improve my trim, finning techniques and buoyancy.  It wasn't immediate by any stretch of the imagination, but it evolved over each confined session in the water.   As a bonus, part of the course included playing with gear and my inner scuba nerd was born.  
After a few days we were able to begin the SSI Extended Range Nitrox Course. We progressed into the classroom where we dove right into learning all about how diving deeper and longer would effect our bodies and how to plan to perform the dives properly. The information was so interesting and the dive planning was actually fun.  Being able to plan a dive to the last second was exactly what I needed to put my mind at ease.  Extended Range diving was no longer a scary, life threatening activity.  It was something that was obtainable through planning and practice.  The first 2 dives were simply practice.  We learned how to follow the plans we had prepared and perform our simulated decompression plans.  It was perfection! Not me! Haha! But the entire Extended Range process.  I was officially in love.  My eyes had been opened to the fact my my fear had came from a lack of knowledge and through gaining more knowledge about decompression diving my fear was gone. We did 2 more dives actually going into deco and I was finally ready to be certified as an Extended Range Nitrox Diver.  I was proud, yet humbled by the realization that my learning was not complete.  
I decided to continue with my training and and become certified in SSI Extended Range... then Extended Range Trimix….then Technical Extended Range…then Hypoxic Extended Range…then Extended Range Foundations Instructor…Extended Range Trimix Instructor…and all the way to SSI XR Instructor Trainer.  
Who knew that questioning one divers buoyancy could lead to so much fun and excitement!  
Over the years, I have trained with phenomenal SSI XR international training directors like Cat Braun, Adam Wood and Quinn Atkinson.  Each one of them have taught me, encouraged me and helped mold me into the diver I am today.  Over the years, I have developed my own style of teaching Extended Range.  I've learned to keep it simple, keep it real and keep it fun!  
I always love visiting with other divers when I'm teaching, working around the dive center or even doing fun dives.  There's nothing better than creating those bonds and relationships with divers around the world. When speaking with them they always seem to have the same opinion. Technical diving is only for serious, very experienced divers and they cannot see themselves continuing beyond the recreational, beginner level certifications.  Here is what I've heard and here are my thoughts:
1. They believe the courses they are considering are too difficult.  This can be due in part to a lack of information about what's required. I believe people benefit from seeing just how easy it can be to achieve the prerequisites needed for our Extended Range programs. Personally, I need for a clear road map or plan.  Therefore, I have created this poster that does just that.   As you can see, you can begin learning the prerequisites for our Extended Range programs, like the SSI Recreational Sidemount Course, once you've finished the pool/confined water portion of your Open Water Diver course. Then you can begin the Extended Range Foundations and the Extended Range Nitrox Courses once you are certified in Deep Diving, Enriched Air Nitrox and have logged 24 dives.  The coolest part is you get to choose if you want to dive on a sidemount or twinset configuration!
2.  It can also be because of the way some tec divers sometimes talk "down to people". It just hurts my heart when I see this! I try to do the opposite. During the courses I always try to evaluate my students and candidates reactions and gauge if they are understanding the digital materials. Then I adjust my teaching style to suit their learning abilities.   
3.  Divers feel they are not good enough. As I mentioned above, I, myself, am humbled daily by the fact that I am not perfect, and I do not know everything.  One of the first things I tell my XR students it that exact statement.  But I follow those words up with my promise to be honest when I do not know an answer to a question and my pledge to immediately, as time permits, research, and network to find out the answer.  I love the SSI XR Facebook group where people can join to ask questions and gather more information.  I enjoy reading the questions and the replies but have never really been the type to actively participate. However, in smaller groups, or more of a "family style" setting, I love a good discussion.  I have created a private Facebook group for all the XR divers and instructors my dive center have trained in case anyone else needs the comfort of a smaller group to openly discuss questions, comments or concerns.  I believe we are stronger together and can greatly benefit from learning from each other.  
4.  Divers feel it will be too expensive. I agree, diving is an expensive sport.  Sometimes all someone needs is proper counseling on the different options available.  I know dive centers that offer payment plans and credit options but in Honduras, that simply isn't an option.  What we can do though, is to offer them the option to pay a 50% deposit, we then assign the digital materials and begin the academic sessions on Zoom prior the divers arriving  and/or the balance being paid.  This allows them to begin working towards their goal without having to pay the entire balance in advance.  I can also assign homework during this time and have divers work on their buoyancy and skills at their own pace on recreational dive gear in a local pool.  This allows me to "hit the ground running" once they arrive on Utila.  
In regards to gear suitable for XR… who doesn't love scuba gear!  I could spend hours, upon hours, looking online at all of the options available.  In the beginning I purchases so many items that really weren't suitable or necessary.  Over the years, I've found the gear that I prefer and works best for me.  I never insist a diver purchase what I recommend, it's simply a recommendation, but I do believe it's important to ask questions from divers and instructors with more experience before purchasing the gear. There are just so many choices out there.  I'm always willing to give my opinions and the reasons behind my choices.  And please walk into your local dive center! I research online and buy local whenever possible!
5.  Divers believe XR is dangerous.  Lack of information is so incredibly powerful.  In our beginning level courses, our divers are taught to be careful and to always stay within the no decompression limits. Rightly so!  Without proper training decompression diving can be dangerous.  SSI has a recreational specialty course called Decompression Diving which offers the entry level training needed to begin doing decompression dives. It's an AMAZING course for divers who want to safely stay down a little bit longer exploring wrecks or lion fish hunting but don't want to venture into any of the Extended Range programs.  It's a very fun, yet informative course that can be done on recreational gear or on sidemount. 
6.  Sidemount  diving is another great course that can evolve over time and be used in Extended Range diving. I absolutely love sidemount diving and love teaching it!  
Sometimes divers have the impression that sidemount diving is only used for decompression or technical dives.  Not at all!  I dive on sidemount on every single dive I possibly can.  It's amazing how balanced and free you feel on sidemount.  I can enter the water with 1, 2, 3 or even 4 cylinders or the boat captain can hand them down to me making it perfect for divers with back or knee issues.  Trying it is definitely a must!  We offer a Try Sidemount pool/confined water session.  You simply get in the water and I connect the cylinders on you and we swim.  It's amazing and so much fun. 
Regardless of the reason a diver is hesitant to begin training in Extended Range, my advice is always the same.  Just do it!  You gain an abundance of knowledge and skills that are incredibly useful on every dive.  I've never regretted taking a single SSI course and I continue to take more and more courses myself at both the diver and the instructor level.  At Tank'd Pro Dive Center we truly believe in our signature phrase for 2023…NEVER STOP EXPLORING!
*JUST FOR FUN...MENTION THIS BLOG AND RECEIVE A 10% DISCOUNT!*