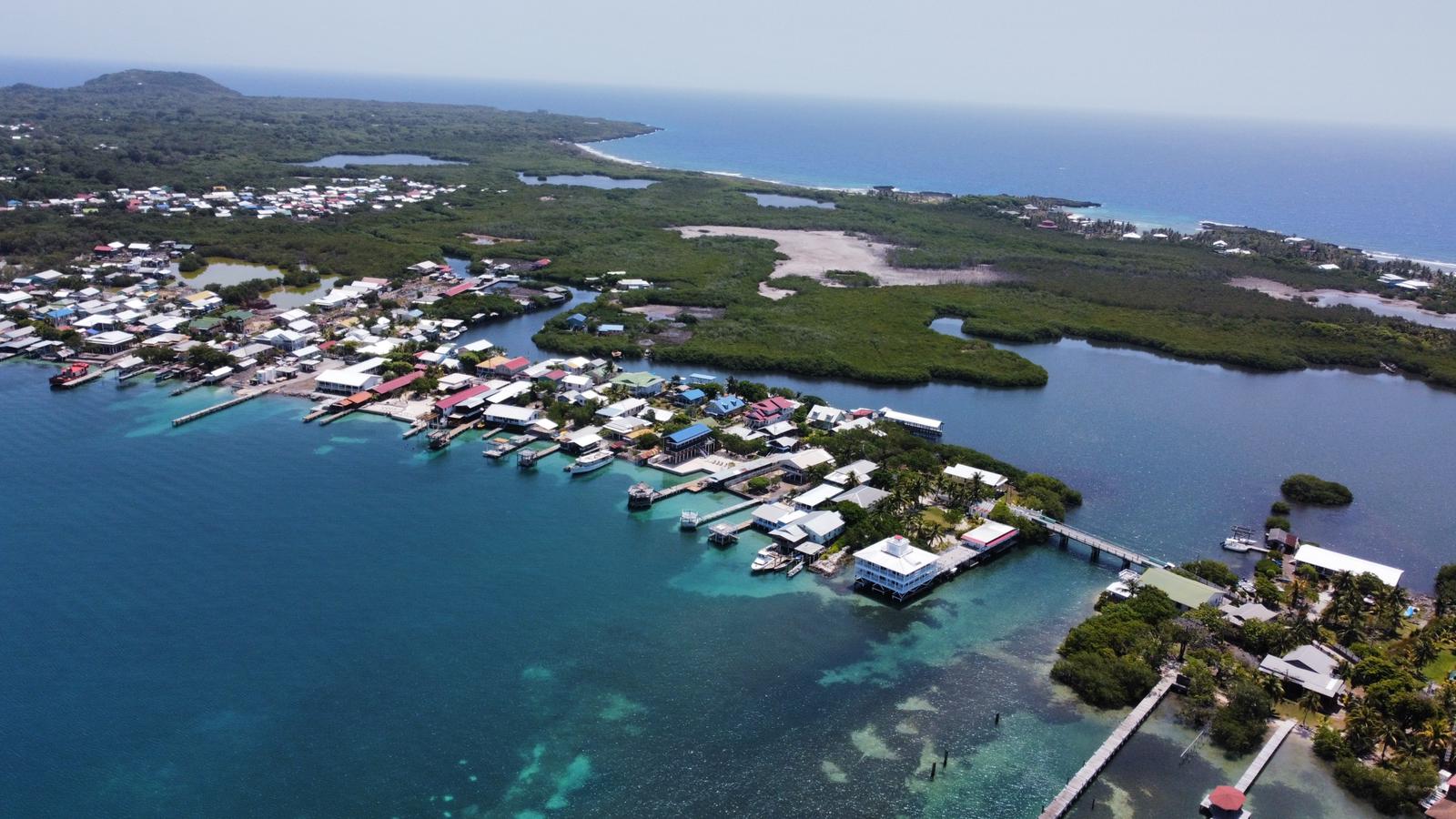 Flying to a new country can be daunting.  But it does not have to be if you know what to expect.  Coming to Utila is as easy as hopping on a flight to Honduras and then connecting to the island via a ferry or small prop plane.  Honduras has safe, modern airports, a first-class ferry and is a warm, hospitable country.
I have been traveling to and from Utila for nine years, having taken planes, ferries, shuttles and even a bus trip or two to get there.  At the end of 2016, I moved to Utila permanently and have been blessed with a stream of friends and family making the trek to visit me.  Everyone loves coming to Utila for a relaxing holiday and magnificent diving, and all have easily mastered the art of traveling here.  Even my seventy-six year old mother feels super comfortable making the journey every year.
There are two principal ways to come to Utila - via Roatan, the largest of the Bay Islands, or via San Pedro Sula, a larger city on the mainland of Honduras, hosting a popular airport with lots of international flights.  The choice comes down to connections, price point and personal preference. 
Visiting Utila via Roatan
(Plane + Ferry)
Many people love the convenience of flying into Roatan (including my mum, a recent convert) and then taking the Utila Dream Ferry over to Utila.  Roatan has a small airport ("RTB") that is easy to navigate and is only ten minutes from the ferry dock in Mahogany Bay.  However, there are fewer incoming flights and the ferry runs once daily, so you need to plan your connections accordingly.
RTB is serviced by United Airlines and American Airlines, which usually offer daily flights to and from Houston, Dallas and Miami.  Delta Air Lines also flies from Atlanta, but operates on a more limited schedule.
Arriving
Unless your holiday plans include spending the night on Roatan or chartering a private plane, plan on arriving no later than 12:30 p.m. to catch the 2 p.m. ferry.  Given no delays, this generally should allow you enough time to get through immigration (plan up to an hour, though it's usually less), pick up your bags and catch the ferry.  Don't worry if you miss the ferry; you can easily stay in any one of Roatan's numerous resorts or hotels for the night and catch the ferry the next day. 
To get to the Utila Dream from the airport, you will need to take a taxi.  Exit the front doors of the terminal where you will see a queue of white taxies.  They accept dollars and charge $20 per person to go to the ferry.
The ferry runs seven days a week, departing for Utila at 2 p.m. and arriving about seventy minutes later.  Once you arrive in Utila, there will be a line of Tuk Tuks (three-wheeled taxis) ready to take you to your accommodations after you pick up your checked luggage.  Have your baggage ticket stubs ready to show to the attendant when retrieving your bags, which will be to your left as you alight the ferry.
Leaving
The ferry back to Roatan leaves Utila at 10:20 a.m., arriving around 11:30 a.m.  If you have a choice of flights, choose the the one departing later to allow yourself plenty of time to get to the airport, check-in your bags as well as go through immigration and security.  Once you arrive at the dock in Mahogany Bay, there will be a slew of taxis waiting for you.  As with your arrival, it will be $20 per person to the airport.
If you are worried about making your flight, you can always take the ferry the day before and enjoy an extra day of vacation on Roatan.  There are tons of hotels and restaurants and beautiful sandy beaches to enjoy.
Once you arrive at the airport, after checking in your bags, you will need to make your way through immigration and security (to the far right of the ticket counters) before entering the gate area.  Although RTB is a small airport, you will find a counter with sandwiches, snacks and beverages as well as a bar (a popular spot for people wishing to extend their vacation just a wee bit more) to help you pass the time until your flight is called.  Also tucked away in the far corner is a small souvenir shop.
Visiting Utila via San Pedro Sula
(Plane + Regional Plane or Plane + Shuttle + Ferry)
If connections are too close for comfort in Roatan, you can always fly into San Pedro Sula ("SAP").  Numerous airlines, including Spirit, American Airlines, Delta Air Lines, United Airlines, Aeromexico (good for reasonably priced business class tickets) and Copa Airlines fly into SAP, offering a wide array of itineraries and times.
From SAP, you can take CM Airlines' 3 p.m. flight directly to Utila on Saturdays.  If you are arriving on a different day, you can hire a shuttle to drive you to La Ceiba, where you can catch the ferry to Utila.
Arriving
Connecting via CM Airlines
If you are connecting via CM Airlines, you will need to check in and recheck your bags.  Upon exiting the glass doors after baggage claim, turn right and head to the end of the row of airline counters to find CM Airlines.  
Unlike the major airlines, CM charges $1 per pound for luggage.  However, if you buy the ticket from their website (verses a travel website), thirty-five pounds of luggage is included.  Please note that because you will be taking a smaller prop plane, there are no overhead bins.  You will be asked to check your carry-on if it cannot fit on your lap, so remember to include that in your total luggage weight calculations.  Also, I recommend having cash available as their credit card reader does not always work.
After checking in, you may wish to grab a bite to eat in one of the eateries downstairs.  Upstairs in the gate area the selection of food is limited to snacks - coffee, pastries, sandwiches and beverages.  Also, the souvenir shops are more comprehensive on the lower level.
To head to your gate, enter the line at the end of the terminal (it's just past CM Airlines).  You can skip the immigration booths flanking both sides - those are for international travelers.  Just show your CM ticket and pass through.
Upstairs you will pass through security before heading into the gate area.  CM leaves from gate number 8.
Connecting via Shuttle to La Ceiba
If you are arriving on a day by CM Airlines is not flying to Utila, you can take a shuttle to catch the Utila Dream Ferry in La Ceiba, which departs for Utila at 4:30 p.m.  The drive usually runs three and a half hours, but can be slightly longer depending on traffic. 
I have been using Rooneys Rentals shuttle service (they also have golf carts and ATVs for rent on the island) and have been very satisfied with their reliability.  The van costs about $120 for the one-way trip and is an economical alternative if you're traveling with others or have a lot of luggage.  Rooneys picks up at the huge, white, "I ❤️ Roatan" chair situated outside the far right end of the airport terminal.
Once you reach the ferry, purchase your ticket if you have not done so already, drop off your bags and pay the 35 Lempira departure tax at a kiosk across the street from the ferry terminal.
In the event you miss the ferry, don't worry.  There are plenty of reasonably-priced hotels to spend the night, and you can catch the 9:30 a.m. ferry the next morning.
Leaving
To return to SAP, you can again fly or take the ferry and then a shuttle.
Via Air
CM Airlines departs Utila at 8:40 a.m. on Saturdays, arriving half an hour later in SAP.
Via Shuttle
If you are traveling by shuttle to SAP, the morning ferry departs Utila at 7 a.m., arriving in La Ceiba at 8 a.m.  Because you will be heading to San Pedro Sula at a popular time, you may be able to save money by taking a shared shuttle.  Again, expect at least three and a half hours to get to SAP.
If you would like additional information on making your travel arrangements, please see Attachment A, which includes some tips on planning your international flights, booking your domestic (Honduran) connections as well as some general travel recommendations.
Final Thoughts
The journey to travel to Utila is part of the adventure.  Whether you take a ferry and sit upstairs in the warm salty air as you cross the beautiful blue Caribbean waters, fly in a small plane over verdant green mountains and banana plantations or take a shuttle through the beautiful countryside, passing through pineapple farms and small Honduran towns, you will get to experience a slice of beauty and life that will transport you away from your daily routine. 
Once you arrive on Utila, be prepared for a relaxing vacation and fabulous diving on this beautiful, laid-back island.  I have been enjoying diving with Tank'd Pro Dive Center since it opened.  They treat everyone like family.  Tank'd specializes in small group sizes, fabulous dives and personalized attention with the best in new, modern equipment and boats.  The underwater life here is amazing, filled with beautiful corals and schools of fish, along with unique critters such as sea horses and colorful shrimp and crabs hidden amongst the flora and fauna. 
Isn't it time you booked that trip to Paradise?
1. Booking Your International Flight(s)
A. Investigate All Options
To get the best price and connections, I recommend looking at both RTB and SAP, as well as investigating two-one way tickets in addition to a round-trip flight.  These days, a round-trip ticket is often not any cheaper than two one-way tickets.  I often mix and match airports and airlines to get the best combination in terms of connections and price.  I frequently fly out of Roatan mid-week and return via San Pedro Sula on Saturday so I can catch the CM Airlines afternoon flight back to Utila.
B. Ensure Adequate Time to Catch Connecting Flights
If you do not live near Houston, Miami, Dallas or Atlanta and are fortunate to catch a direct flight, plan plenty of time for your connecting flights.  I like to leave at least an hour and a quarter on the way to Honduras and two hours on the way back to the States.  So, if you have a choice between that dreadful 5 a.m. flight out of your local airport or the 6 a.m. flight, take the 5 a.m. flight.  It's not worth missing your connection (as friends of mine have) for an extra hour of sleep.
C. Flying From the West Coast
If you're flying to Honduras from the West Coast of the United States, most likely will either have to take an overnight flight or spend a night in a hotel during your journey.  All the major US airports have hotels nearby offering airport shuttle service.  Houston even has a Marriott at the airport (super convenient).  On the way back to the States, you fortunately can make the trip in a day.
Please note that if you decide to overnight in Houston, Dallas, Miami or Atlanta, because of the long layover, you will have to pick up your bag after you land at the airport and recheck it in the morning - it will not be checked through. You may also be charged twice for your checked bag.
United, for example, charges you $35 for your first bag in economy when you check in.
If your layover is greater than 4 hours, United requires you to pick up your bag and recheck it, charging you a second $35 fee when you re-check in for the second leg of your flight.
2.  Booking Your Local Ferry, Flight or Shuttle
In conjunction with booking your international flight to Honduras, you will need to book your local transfers.  The good news is that in today's electronic age, this is a simple, on-line process.
A.  Utila Dream Ferry
You have the option of buying your ferry ticket at the ferry terminal or purchasing it in advance at utilaferry.com.  Round-trip tickets bought at the terminal are 1530 Lempira ($62 USD) and on-line they are slightly less at 1350 Lempira ($55 USD).
The ferry is very large and unless you are traveling during Semana Santa (Easter week) or Semana Morazanica (October 4th - 7th), there will be oodles of capacity so you don't have to worry about pre-booking if you prefer to wait.
If you have booked your ferry ticket on-line, all you have to do is present the QRQ code on your phone to the boarding attendant, who will scan it.
B. CM Airlines
Although you can book CM Airlines through any major travel website, I recommend purchasing CM tickets directly from their website, cmairlines.com.  It will make it easier to rebook your ticket if your plans change, and as mentioned earlier, thirty-five pounds of luggage is included with the price of your ticket.  CM does not offer refunds but does allow you to change your ticket for a small fee.
One way tickets purchased on cmairlines.com are $138.  Round trip tickets are $226.
C.  Private Plane
Bush's Travel books private charters from Roatan and/or SAP to Utila.  They can be contacted via Messenger on Facebook or at +504 9692-1615.
D.  Rooney's Rentals
Rooney's books their shuttles via WhatsApp.  You message your request and then they send you a payment link.  Rooney's Rental WhatsApp number is +504 3313-6948.  Their drivers are all based in La Ceiba and will drive from La Ceiba to SAP to pick you up.
If you come in on Spirit, Rooney's will even send a driver to pick you up in the middle of the night at SAP and drop you off at the ferry dock in La Ceiba if you wish (you may have to wait a bit for the ferry office to open, but there are benches to sit on outside).
3.  Booking a Local Hotel en Route
The best laid plans can go awry.  You can't control the weather or ensure that your plane will be on-time.  So what happens if you find yourself in Roatan, San Pedro Sula or La Ceiba for the night?  Fortunately Honduras is well-equipped in the hotel department.
A. Hotels in Roatan
If you need to stay on Roatan, there are a myriad of resorts and hotels.  I've enjoyed my stays at Paradise Beach and Wikkid and my friends at Naboo Resort (which has a fabulous restaurant) and Mr. Toucan Hotel.  Other than one very basic hotel near the airport, most hotels all are at least a half hour drive away, so plan on bring plenty of cash (dollars are fine) to pay for taxi rides, though a few places do offer transportation to and from the airport.  Popular areas on the water include West Bay and West End (which is where most of the hotels I mentioned earlier are located).  If you want to stay closer to the ferry, my mother highly recommends The Roatan Yacht Club, which she stayed at recently after her flight was diverted to Belize for a few hours.
B. Hotels in San Pedro Sula
I have been fortunate and have not had to stay in San Pedro Sula in a few years.  However if you do find yourself there, a fellow expat recommends Metrotel Express for a reasonably priced hotel.  It's only four miles from the airport and includes breakfast.  If you're willing to pay more and go a touch further (seven to eight miles) there are major chain hotels like the Hyatt, InterContinental and Hilton.
C.  Hotels in La Ceiba
Whenever I need to stay in La Ceiba, I always stay at La Quinta.  I have never had a problem walking in and getting a room, though it can be booked on-line through any major travel website.  There are two La Quinta hotels in La Ceiba - La Quinta and La Quinta Real.  You want the first one - La Quinta - as it is cheaper and more central.  If the driver asks for clarification, it's the one by the Mall Megaplaza.
La Quinta has a very good restaurant on site and the room price includes breakfast (a delicious desayuno tipico (typical Honduran breakfast) with eggs, beans, fried plantains, cheese and toast.  The last time I stayed, a room cost me $68 for a single.
Another similar hotel some travelers recommend is the Gran Hotel Paris, which is in the downtown area.
4.  General Tips for Traveling to Honduras
To help make travel stress-free, here are a few final things to keep in mind as you plan your visit and travel to Honduras.
A. Passport
Double check that you have at least six months left on your passport.  You will not be able to leave the US to fly to Honduras otherwise.  If you need to renew your passport, plan on it taking up to two months for expedited service (unexpedited renewal takes even longer).  The Passport Office still has not not made it back to pre-pandemic turn-around times, and appointments for last minute passport renewals are extremely difficult to come by.
B. Entry Requirements
Please note that Honduras requires you to fill out a pre-check form before flying into the country.  Your airline will send you a link to the form, or you can go on-line to prechequeo.inm.gob.hn.  You will need your passport, flight information, COVID vaccination or negative test results, and accommodation information in Utila in order to complete it.  I also take a hard copy of the completed Prechequeo form with me to present to the agent at the check-in counter just in case they request it (this varies by airline and airport).
Also, please note that Honduras requires you to have a return ticket booked within 90 days.  Sometimes the airlines ask you for your return date; other times they ask to see a copy of your ticket.
C. Arrival Procedure
Before landing, the flight attendants will hand out a short immigration form (you will also complete the same form upon leaving the country).  You will need your passport number, flight information and place you are staying to complete it.  Once you land and are in the terminal, you will hand it back in (at what point and to whom seems to vary - just look for a person with his hand out, holding a stack of forms).
The first line you will go through after landing is to present your COVID vaccination card or negative COVID test results (though last month when I arrived, I didn't need to do this).  After that, you will proceed through the visitor line in immigration, where you will provide your fingerprints on the electronic scanner and your passport will be stamped with a visa.
After immigration, you can collect your bags.  Please note that you will usually need to show your luggage stubs to an attendant who will match them to the tags on the bags in order to leave the baggage area.  Also, you will need to have your luggage and your carry-on bags x-rayed before heading into the main terminal area.