From One Dream to Another by Mariam Weyand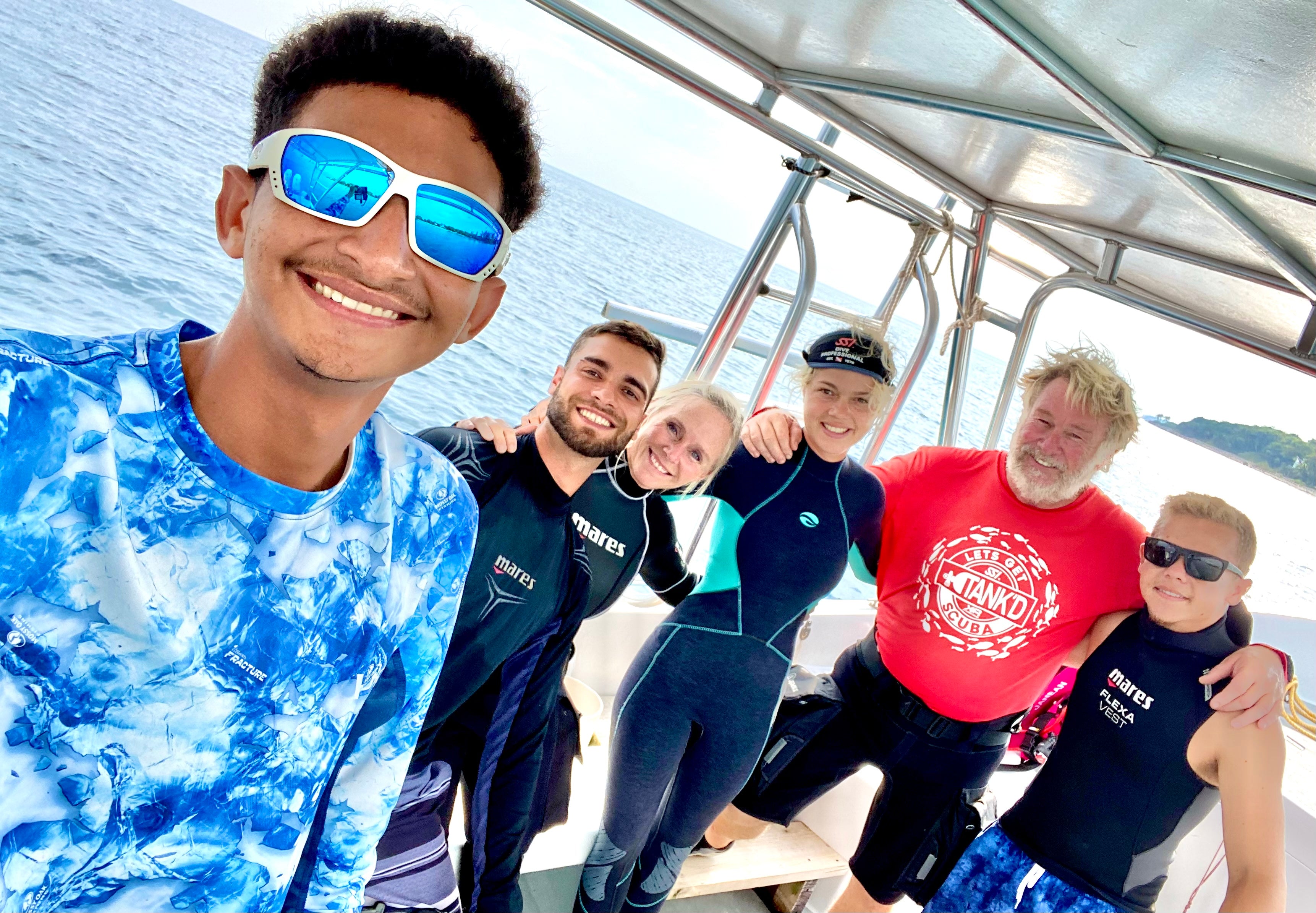 From One Dream to Another

 by Mariam Weyand
For those who have not had the pleasure of diving with Tank'd Pro Dive Center in Utila, Honduras, let me introduce myself briefly. I am Mariam, I am from France, and I am one of the Scuba Dive Instructors in this facility. 
Greg, Janean, Dewey, Mariam, Michael 
When I graduated with my master's degree in Applied Marine Biology in 2015, I had no idea what would come next. I could have done a PhD or I could have started to work, but I didn't feel ready or motivated by any of these options. I had the feeling that it was time to change direction. I felt the need to discover more about life, the world and myself. So, I decided to do a road trip in South America with the intention of traveling for three months. But before leaving France, I really wanted to have my Open Water Certification so I could dive along the way.  I did it in a Lake in Arcachon in southwestern France. It was cold with poor visibility, and I didn't see any wildlife. But somehow, just the fact that I could breathe underwater made my day! 
In September 2015,  I headed to Colombia. After a month and a half traveling, I met someone who taught me how to travel as a backpacker by working and volunteering in the way. In the end, this three-month road trip lasted two years. I ended up traveling through Colombia, Ecuador, Peru, Bolivia, Argentina, Chile, and Mexico. I've learned so much on the way, and I am very grateful for having had the chance to live it! 
The Lost City - Columbia
Missahualli - Ecuador
Cuesta Blanca - Argentina
Machu Picchu Peru
Tatacoa Desert - Colombia 
Towards the end of the road trip, I volunteered for two Sea Turtle Conservation Projects in Mexico. It was such an amazing experience that I was sure I wanted to dedicate myself to helping wildlife! 
After months of hard work, I headed back home. Even if I could have kept going, it was time to integrate everything I learned and earn some money to travel again. That's when I worked in a supermarket for a few months before finding a great opportunity in Costa Rica with an NGO (non-governmental organization). I worked as a Research Field Assistant for Sea Turtle Conservation for seven months and then became the coordinator of the program. It was an amazing experience to live in this beautiful rainforest. The biodiversity and abundance of flora and fauna in the Osa Peninsula is just breath taking! 
Let me introduce you to my office in Costa Rica 
Baby Olive Ridley Sea Turtles 
I learned so much at so many levels during this year and a half. However, for my mental and physical health I decided that it was time to move on before losing my passion. It was no easy decision but so worth it! 
In September 2019, I returned to France. For the following two years, I worked as a receptionist and as a waitress when possible. By October 2021, I was ready to go back to traveling! That's when I headed to Mexico with my partner to do another road trip. 
Chichen Itza - 
Mexico Las grutas Tolantongo - Mexico 
A few months later, we arrived in Quetzaltenango, Guatemala, where I volunteered as a receptionist in exchange for accommodation. One day, I met a guest who did his Dive Master in Utila (first time I heard about the island). I remember this feeling of admiration towards dive masters and that I would dream to become one. 
In January 2022, we found a volunteering opportunity in Guanaja, one of Honduras' Bay Islands. 
Guanaja - Honduras 
Guanaja - Honduras 
We worked there for about a month, and that's where I met Kjerstan. She kindly invited me to her place in Utila, telling me that I could meet her friend, Reiner, who swims with an octopus every day. Swimming with Octopus? Oh yeah!! 
So, on February 22nd, 2022, I arrived at Utila with no intention of diving as it was not in my backpacker budget. I met Reiner, and he helped me fulfill my dream of swimming with an octopus again! That was such a beautiful moment!! 
Then, out of nowhere, Kjerstan told me that she would take me to Tank'd Pro Dive Center to give me a refresher for free and do some fun dives afterwards. That's when I met Greg, Tank'd's manager. I loved his energy straight away, and he made me feel comfortable and welcome! 
The day we did a fun dive with Tank'd, I enjoyed it but had trouble with my buoyancy. I mean, I had done only a total of eleven dives including the open water training sessions from 2015 to 2022. So I hadn't integrated the concept of how to achieve perfect buoyancy. During the dive, my friend's computer stopped functioning, so we then headed to Mares Shop where I met the owner of  a local dive center. 
Funny thing, I met him again the next morning when I was walking back to my friend's house after having visited the octopus. That's when he offered me to do the Advanced Open Water. And I did! My Instructor was super nice and a great teacher. He helped me realize that diving is something that seems to suit me, and he made me consider continuing up to Dive Master. 
As diving is quite an expensive activity, I had to think about it as it would impact my travel budget. It was then that I decided that even if I was kind of scared of not being good enough, I should do my best and fulfill another dream! 
After some investigation, I realized that I was very attracted to Tank'd Pro Dive Center's energy/vibe. Before starting the Dive Master training, I did the Diver Stress & Rescue course. During the open water portion, I met Janean (Tank'd Pro Dive Centre's Recreational and Technical Instructor Trainer) and watched her in the water. I will always remember seeing her being perfectly still, in an amazing, trimmed position with perfect buoyancy. I was so impressed and now had a new goal! 
I began training to become an SSI Dive Master with my great dive buddy and now dear friend, Jesus. My instructor Dewey and his assistant Stephanie taught me and helped me a lot to become a Dive Master! After about half of my training achieved, I was so inspired by Instructor Trainers Greg and Janean and my friends, that I was now motivated to become an SSI Open Water Instructor. INSTRUCTOR?! What?! 
Once I became a Dive Master, it was time to start the Assistant Instructor and Instructor Training Course. And lucky me, my dive buddy Jesus decided to do it too, so we kept training together!! Being together for this course was a blast, it not only felt very personal and family-like, but it was also great to learn all of that with a friend! 
At that point, we had a month to prepare for our Instructor Evaluation. We started with academic sessions with Greg and Janean where they explained everything that we needed to know. We got to practice a lot of oral presentations about different subjects, which was amazing to integrate the information. We also got to practice the in-water skills many times with them, too, so they could evaluate our progress and  guide us in performing them at instructor level quality. Jesus and I then practiced them almost every day during the last two weeks in neutral buoyancy. You could even see us during a fun dive performing some skills randomly! One thing that was very useful was the finning techniques and especially how to back fin. 
On July 9th, I became officially a Open Water Instructor!!! I can now help people becoming safe and capable divers so that they can enjoy this wonderful underwater world. 
From the left to the right: Greg, Jesus, Janean, Mariam, Andy 
Jesus and I just got our Instructor Certificate! 
So, I not only fulfilled another dream and made it even better, but I also met my new family including Billy Chou and Trimix! 
Trimix and Billy at the entrance of the dive center: Tank'd Guardians 
A year and two months after my arrival in Utila, I am now a Divemaster Instructor and have 531 dives!! I can teach many different specialties, including the more common ones as well as Recreational Sidemount, Full Face Mask and Decompression Diving. Thanks to Greg and Janean I keep growing as a diver, and I've now been certified in Extended Range! 
Janean and I heading out for a 45m Extended Range dive on Trimix.
In the end, by choosing to go towards what I like and doing my best, I got to fulfill several dreams in a few years! And it's far from being over!!! 
Dreaming in the Ocean