Save 15% On Scuba Adventures for Military, Veterans & Seniors!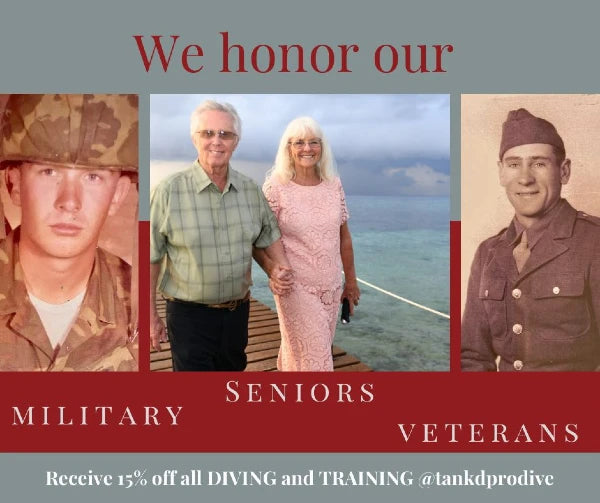 Attention military, veterans, and seniors! Enjoy a 15% discount on scuba diving adventures. Dive in now and experience the underwater wonders for less.
Explore the Underwater Wonders with a Special Discount
Hey there, fellow adventurers! We've got some fantastic news that we couldn't wait to share with you. If you're a military member, a veteran, or a wise senior, we've got something special just for you at Tank'd Pro Divers in Utila. Get ready to dive into the depths of excitement because we're offering an amazing 15% discount on our scuba diving adventures!
An Exclusive Discount for Our Heroes
We believe that everyone should have the chance to explore the mesmerizing underwater wonders. That's why we're thrilled to extend this exclusive discount to our military heroes, veterans, and beloved seniors. It's our way of showing gratitude for your incredible service and making scuba diving more accessible for you.
Immerse Yourself in a World of Wonder
Imagine immersing yourself in a world filled with colorful marine life, vibrant coral reefs, and breathtaking underwater landscapes. With our discount, you can experience all of this and more without breaking the bank. Trust us, the memories you'll create beneath the waves will stay with you forever.
Claim Your Discount and Dive In
To claim your discount, simply bring your military ID, veteran ID, or valid senior identification when you book your scuba diving adventure. Our friendly team will be there every step of the way to help you plan the perfect dive and ensure your safety throughout the experience. Whether you're a beginner or a seasoned diver, we've got your back!
Safety First, Fun Always
At Tank'd Pro Divers, your safety is our top priority. We provide top-notch diving equipment, certified instructors, and follow strict safety protocols to ensure you have a worry-free adventure. Our goal is to make sure you feel comfortable and have the time of your life exploring the underwater wonders of Utila.
Dive into Unforgettable Experiences
From vibrant coral reefs to graceful sea turtles, the underwater world is calling your name. Don't miss out on this incredible opportunity to explore it all while enjoying significant savings. This is your chance to embark on multiple dives, meet incredible marine species, and create memories that will make you smile for years to come.
Book Your Scuba Adventure Today
So, what are you waiting for? Dive in today and experience the magic that lies beneath the surface. Contact us now to book your scuba diving adventure with the amazing 15% discount for military personnel, veterans, and seniors. We can't wait to welcome you and show you the beauty of Utila's underwater realm. Get ready for an adventure like no other!